Hospitalfield Alumni Association


Gallery
Click on thumbnail for larger image. To return to Biography click on Alumni's image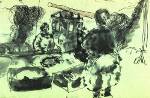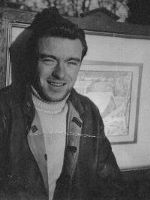 William Daniel Clyne
Biography - 1922 - 1981
Dan' to family and friends was born on 22nd July,1922, at Stirkoke Mains,Wick,Caithness, eldest son of W.A.Scott Clyne, farmer.
Educated at Wick High School, his drawings date from an early age. His mother encouraged his aptitude for music and he studied violin for three years but his main enthousiasm was for drawing and painting. In 1948, Dan gained the Diploma of Edinburgh College of Art where he was taught by W.G.Gillies, John Maxwell, Adam Bruce Thompson, Donald Moodie, William McTaggart, Henry Lintott and Derek Clarke. His college career was interrupted by war service in the navy, which took him to South Africa in the Fleet Air Arm from 1943 to 1946 .
March,1949 saw the completion of Dan's two terms of Teacher Training at Moray House College of Education, Edinburgh, after which he undertook a six months post-graduate residency at Hospitalfield House, Arbroath under the tuition of Ian Fleming. The result of this was that an exhibition of his watercolours and drawings of Arbroath fishermen, fishing boats, Angus landscapes and portrait drawings, was held in the spring of 1950 in the new Andrew Grant Gallery, Edinburgh College of Art. A study for his gouache painting 'The Hunt' in ink and gouache was retained for the College Collection.
By this time Dan was teaching at Banff Academy and creating many small scale portrait drawings and characterful sketches in coloured inks, watercolour and charcoal. These form the subject of a selected exhibition to be shown at Banff Castle during The Coast Festival of Visual Arts from 22nd May - 25th May, 2009 and curated by his sister Thora, a Fine Arts graduate of Edinburgh University and College of Art..
During the easter vacation of 1950, Dan took part in the Royal Scottish Academy Competition and in June entered for a travelling scholarship from Edinburgh College of Art. Leaving Banff where he had taught as temporary teacher of art since August, 1949, in 1950, he moved to Edinburgh after a stay ay home in Caithness where he painted a watercolour and charcoal portrait of Anne Pottinger later to be exhibited at the R.S.W. in 1951 and at The Inverness Art Society exhibition, to share a studio with his brother Henry who was studying sculpture at Edinburgh College of Art.
In 1950 Dan exhibited his work at The Society of Scottish Artists, and at The Royal Scottish Society of Painters in Watercolours and The Royal Scottish Academy in 1951, 1952 and 1953. Around this time, his painting 'Harbour Scene, Arbroath' which had been shown at the R.S.W. in 1951 was included in an Arts Council of Great Britain Travelling Exhibition, some time later 'Dieppe Maritime' an oil painting, was shown at The Scottish Gallery in a group exhibition featuring members of the Society of Scottish Artists along with the Kirkwall Arts Club. In 1954 a selection of 15 of Dan's watercolours were exhibited at Richardson Bros. Gallery, Winnipeg, Canada.
In June1951, Dan travelled to London, visitng Windsor and Cookham, painting market scenes, Covent Garden and visiting galleries and in November made a short visit to Paris creating over 40 works in oil, watercolour and pen & ink as a result of this trip, returning to the family home, now Swiney House, Lybster, for Christmas.
Dan taught in Thurso Academy, then Wick High School. He continued to paint a series of crofting themes and landscapes and to exhibit every summer in the exhibition of The Society of Caithness Artists, of which he had been a member since 1946.
He was also a member of Inverness Art Society showing there for three years.
A memorial exhibition of Dan's paintings was created by his sister at the suggestion of Barbara Myatt, now Chair of The Society of Caithness Artists, and shown by William Wilson at The Lyth Arts Centre, Caithness in the summer of 1983.
In 1997, The Lybster Gallery, Caithness showed the works of Dan, his brother Henry and sister Thora in an exhibition entitled 'Sheepshapes, summer scenes and still life'.